Er du blevet svindlet af en svindler til at svindle?
Vil du tjene 1000 kroner, så skal du bare tage med mig ned i Telia. Husk legitimation. For så køber vi en iphone 7 med abonnement for 1 krone, når vi går fra butikken, tager jeg Iphonen og sælger den videre, og du får 1000 kroner. Lige i lommen.
Det var beskeden fra en ung mand, til en gruppe unge i hans netværk. Han fortalte også, at han kendte ham der var butikschef i butikken, og at butikschefen efterfølgende ville sørge for, at lukke for  abonnementet, så de unge mænd, der lagde navn og cpr-numre til købet, ikke ville få en regning i 2 år, for en Iphone, den anden havde solgt.
Men da der næste måned, tikker en regning ind, sidder den unge tilbage og indser, at han nok er blevet svindlet til at svindle af en svindler…
Ovenstående er et rigtigt eksempel. Desværre har det været svært at få nogen til at stå frem og erkende at de blev svindlet til at svindle af en svindler.
For en svindler anmelder jo ikke en anden svindler, for at svindle dem til at svindle. Eller noget 😉  Thats the beauty of it…
Det er set før
"Denne fremgangsmåde med at unge bliver bildt ind, at deres køb i Telia kan "forsvinde" og dermed også den aktuelle gæld for købet, er ikke ny", fortæller pressechefen for Telia, som også fortæller, at forsøg på svindel, er et stigende problem for teleselskaberne. Det gælder både på nettet og direkte i deres butikker.
Hvis man køber en telefon på afbetaling i den tro, at gælden forsvinder uden betaling, så handler man i ond tro og vil blive politianmeldt.
Så hvis man er ung og dum, og falder for en svindlers tilbud om hurtige penge, så er man både dum og naiv, og selv ude om, at man efterfølgende sidder tilbage med en regning på kr 7.441 for en splitny iphone, som man har solgt for 1000 kroner.
For svindel kan bare ikke betale sig. Altså for andre end ham der svindlede svindleren… 🙂
Jeg har navn på ham der har prøvet at få andre til svindle. Får jeg et vidne til at stå frem, så sætter jeg navn på.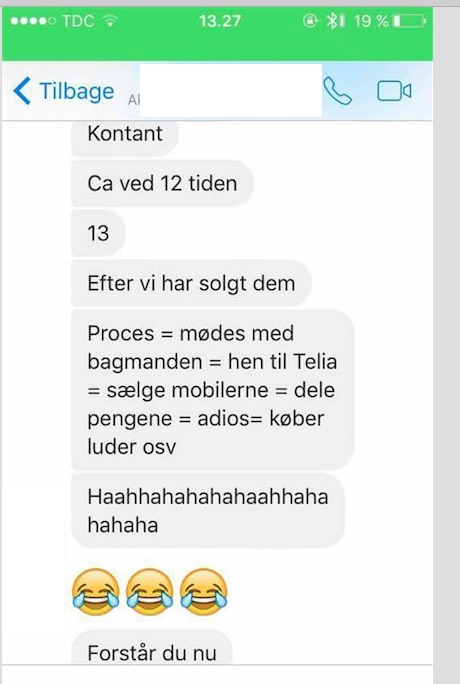 her på minichili-redaktionen har jeg ingen gratis praktikanter der kan korrekturlæse alle mine indlæg, og jeg når det ikke selv. Så jeg tager forbehold for løsslupne kommaer og syrede tastefejl. Håber dog de kan underholde, mere end de kan forarge, Kunne du bruge artiklen til noget, eller ønsker du at jeg skriver en anden? Så vil jeg være glad for en donation for den underholdning du mener du fik. Og skriv gerne hvilket ønske du har for din mønt. Du betaler. Jeg skriver. Både før og efter. Jeg takker for den gode tanke på min mobile Pay: 40409028

by